Hello world.  We're back.  Thank you to everyone who was thinking and praying for us. 
The boys did great.  Martin says he would even be happy to repeat the experience at some stage, although probably not next week.  Danny enjoyed going to nursery so much that we´re thinking he might as well carry on going there until the summer holidays start in December.  Joni thoroughly enjoyed having Daddy's undivided attention all morning, every morning, to the extent that at the moment he's struggling with the readjustment of having to share with the rest of the family again. 
Meanwhile, I had a ball, starting with flying over the Andes which was a first for me.  This through-the-window shot doesn't begin to do justice to it, but you get the idea;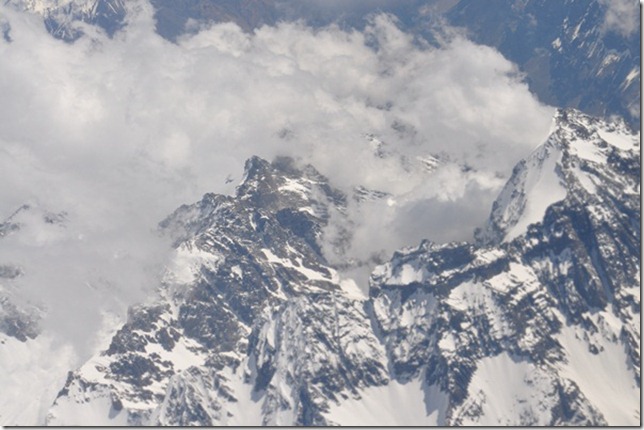 I enjoyed the weekend in Temuco with our Latin Link friends, drinking coffee, chewing the fat, a spot of epic dog-walking, and the confirmation service and subsequent knees-up at the Anglican church.  All highly agreeable.  Followed by an uneventful journey up to Santiago on Monday morning for the conference of the Ecumenical Disability Advocacy Network. 
Only in Latin America could we organise a conference for a bunch of people with disabilities and not think to go check the location; with 24 hours to spare, it was discovered to be completely inaccessible.  But only in Latin America could we manage to resolve the situation, in a completely new setting, with all catering and electrics in place as though nothing had ever gone wrong, and still start more or less on time (delayed mainly by the Venezuelan airline which had managed to both lose and break the specialised wheelchair of one of the key delegates.  Ooops.  Luckily, so the Venezuelan contingent informed us, one of Chavez´s main achievements has been that the Venezuelan population know their rights to the extent that they are able to quote chapter and verse of the relevant statutes.  So off went the airline representative to organise the purchase of a replacement wheelchair.) 
It was probably the best of the three EDAN events I have been to so far, or maybe I'm just getting the hang of them now.  As with any event, the sessions ranged from interesting to less so, challenging to less so, and relevant to less so.  There were some emotional reunions with old friends; and isn't it funny how you have to travel half way across the continent in order to catch up with people who only live a couple of hours from home.  And of course many others started the week as strangers and ended it as friends; like the Peruvian member of government proudly displaying her first guide-dog, and the Venezuelan representative of the International association of mouth and foot painting artists who I helped in and out of bed a few times. 
Wednesday was "International evening".  I'm not a big fan of talent shows, particularly those which aren't on TV and therefore don't come with a handy volume control or off-switch.  But when the Argentinean contingent called me to come and sing their national folksongs, my heart leapt with a little pride; my adopted people have adopted me.  And we were great!  We sung a set of traditional numbers, including famous Tango "Caminito", and the folky "El Arriero".  (You can find a zillion interpretations of both on YouTube).  The chorus of El Arriero (the mule-driver) goes
"Las penas y las vaquitas,
Se van por la misma senda,
Las penas son de nosotros,
Las vaquitas son ajenas"…
The sorrows and the little cows both follow the same path; the sorrows are ours, the cows belong to others.  Which I think is just great, and a wonderful illustration of that British-Argentinean talent for listing our woes, followed by "it could be worse…"  And then just sometimes everything falls into place, and for this one week it seems that the cows might turn out to be ours after all.