Knock, Knock!
Who's there?
Says!
Says who?
Says me, that's who?
My commitments for the afternoon were cancelled, and Joni had a last-minute play-date at someone else's house, so not only did I manage to make the final adjustments to the hoodie I've been knitting for the last couple of months: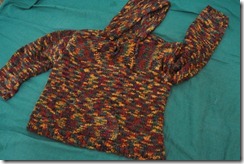 but I also managed to make a pair of booties for Danny out of the oddment of wool left over:
and he even kept them on for the rest of the day which is more impressive than you realise.  I used this pattern after trawling through many and discarding anything which said "slip one" "increase across the row" "circular needles" or any other vocabulary that I didn't understand, so believe me these are eeeeasy.  The author reckons it's for nought to three months, but using chunky wool and 5mm needles they fit Danny's chubby little pork-pie feet just fine.  I sewed the cuff down and used it to house a cord which I tied up at the back, which might be why he didn't take them off, although he's never not managed to extract himself from his trainers within thirty seconds.  He did however toss them into the bath after I took them off for him this evening, so maybe that's a statement, and now I have to dry them out and the house has gone into freezing mode for the night.  He put his socks into the toilet yesterday too.  I already have the next batch of wool waiting in the wings for Joni who also wants a hoodie, hopefully before spring arrives and the temperature goes through the roof.  I'm thinking I should make it big enough to last next winter too.  Or maybe I should just go the whole hog and knit a marquee to last him into adulthood. 
Looking back at the last several family/minutiae orientated blog entries I probably should state that we are doing some work too, I might even try and write about it at some stage.  Meanwhile if you're interested in what's going on around here in a general sort of way, check out this article from the Economist the other day, which sadly seems to be all too accurate; the same information has appeared in the local press here at any rate.  Fears for the economy abound, although looking at what's going on around the rest of the world we probably might as well be here as anywhere else as far as economic stability is concerned, and despite the gloom and moaning there were still no tables to be had at our local coffee house when we attempted to make our contribution to the local economy on Sunday afternoon. 
Knock, Knock!
Who's there?
Delores.
Delores who?
Delores my shepherd.
………………………………………..
Knock, Knock!
Who's there?
Armageddon!
Armageddon who?
Armageddon out of here!
(jokes courtesy of best-knock-knock-jokes.com they don't make'em like they used to…)
Night night.