Happy Father's Day to all dads out there. 
We had a bit of a low-key Sunday, punctuated by regular coffee.  Martin went off to preach this morning.  The kids flapped around in their pyjamas and made Lego models.  I put a roast dinner in the oven and created a dessert.  This is a "torta de alfajor", I can't imagine how I would begin to translate that.  Torta is cake.  Alfajores are round sandwich biscuit type affairs, but they aren't really like anything I have ever eaten in Europe.  And a torta de alfajor would therefore be a cake which is a bit like a sandwich biscuit but not really.  I guess.  Whatever.  It was a bit of an experiment from a passed-on-verbally recipe, which worked just fine and everyone had two helpings.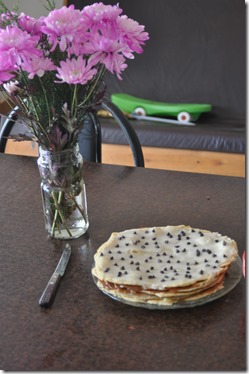 Now we're about to heat some more coffee, and then go to church, where I am scheduled to be producing some Fathers Day craft with the Sunday school children.