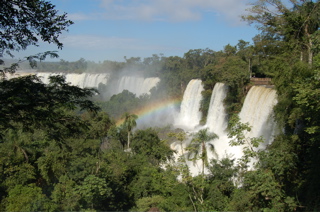 We made the most of our friend Paul's visit by escaping for a couple days to visit the Iguazu falls, on the borders of Argentina, Brazil, and Paraguay. Iguazu is a national park, and the location of a range of huge waterfalls. In fact, in some measurements they are actually bigger than Niagra, but of course they aren't as well known because they are in South rather than North America.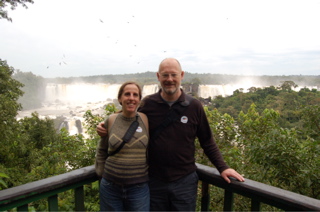 Experiencing the sheer power of the water was absolutely amazing, partly because they have had a very rainy summer in the north-east corner, province of Misiones, and there was about four times the seasonal average volume of water coming over the falls, making it all jolly spectacular. It also meant that a lot of the walkways were rather wet, we got soaked several times which is all part of the experience really.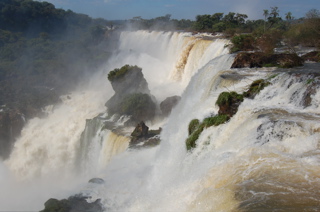 This shot is of San Martin fall, taken from the Argentinian side. This is where the guide took us having told us "now we are going to see some of the lesser falls". We saw both the Argentinian side and Brazilian, and were also briefly in Paraguay, although the city on the Paraguayan side is rather a dive, and only really exists because of the contraband, which moves openly across the border in astonishing quantities.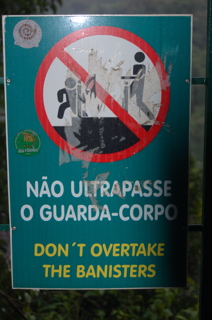 This footpath sign was one of our favourite "English" translations. It meant to say "Don't cross the barriers", but we think it's probably better as it is. Another good one was a sign inside the little tourist train which read "When the train is in motion, please do not stick your extremities out of the yellow lines".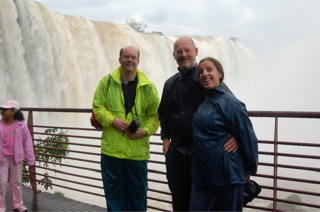 The wildlife in the national park could be out of a childrens' picture book. Some of the colours were even brighter than our friend Paul's yellow raincoat, especially the butterflies, and the toucans. We also saw wild guinea pigs, coatis, and a whole cloud of black vultures. There are also six kinds of wild cats, including jaguars and pumas, but they're night hunters and I imagine they keep themselves scarce when the place is full of visitors in the daytime. The park closes in the evenings to preserve the habitat for the wildlife.