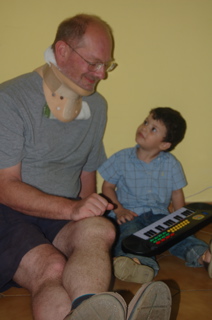 Happy new year all. OK, I'm a few days late, but I do mean it sincerely. Christmas and New Year were spent eating cow with friends, and watching the fireworks at midnight. The photo on the left is of Giuliano aged 2 sharing his Christmas toys with Martin aged 47.
Prize for random conversation of the first week of 2007 goes to the waitress where we stopped for food on the way home the other night. We thought we'd have a large bottle of beer between us:
| | |
| --- | --- |
| Hazel: | … and a large Quilmes please (Quilmes being the usual beer in Argentina) |
| Waitress: | I don't have a large Quilmes |
| Hazel: | Which beers do you have in large size? |
| Waitress: | I don't have any large beers |
| Hazel: | OK, can we have two small Quilmes then please. |
| Waitress: | Wouldn't you prefer a large Quilmes instead? |

I thought I must have misunderstood or misheard something, but no, I am assured that what I thought I heard is exactly what happened.
New year's resolutions. I stopped making those at about the point where I became old enough to doubt that I might achieve any sort of saintliness this side of heaven. One very practical thing that I would like to do sometime soon is to put the rest of our website into Spanish. Funny, it was only a generation or so ago when missionaries were chastised for spending too much time writing letters and the like, now it's pretty widely accepted that at least part of our "ministry" is about communication. Our friends and team leaders here, Hans and Priscilla have just written their first blog comment, starting by stating their intentions to be in better contact… it's at www.saltasnippets.org Another friend, Simon, now working for WEC is writing a superb blog, which can be found at blog.simon-cozens.org One of his best entries is his discourse on why every missionary should blog (can't remember what date that was… Simon….??). I also reckon that every missionary needs to be reading blogs, particularly blogs that are outside our own context/ denomination/ mission agency. Trouble is there's a lot of stuff out there and if I try and read it all I'd never get anything else done and the old guys might end up having a point that "communication detracts from the real work" so I'm making myself a little list of a few good ones to keep up with… our friends Dean and Paula are doing great stuff in South Africa, they're at dpfinnie.blogspot.com And if you are reading or writing a good-thoughtful-interesting-challenging blog feel free to hit the comment button and post up the link.