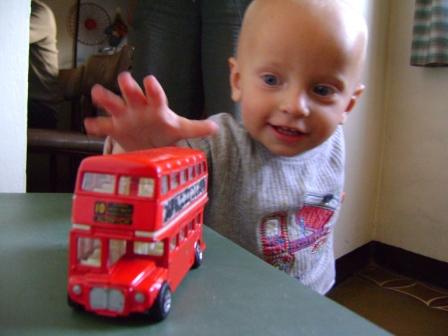 I like this photo, confident baby taking over the world. It was taken by our friend Diego, whose family we were staying with in Cordoba. Diego himself has just left for "the north", to have a mission experience working in a children's home for a few months.
And so here we are in San Francisco, so I thought I'd just write a quick update. We don't have internet access very easily at the moment so I'm grabbing space in Wifi cafes whenever the chance comes along.
We spent some frustrating time in Cordoba, apart from Martin damaging himself. Can't really go into details without causing offense, except that it wasn't at all the fault of the people we were staying with. Ana and Oscar's family are lovely and we really appreciated them and their hospitality.
Then we went to San Francisco and things started improving. The church have been very welcoming, we stayed three days with a sweet old lady, and the last three days we have been with a family with lots of kids who have an ongoing competition to make Joni laugh.
Folk from the church have been helping us to look for a house to rent. We have seen four, and have chosen one that we think we have closed a deal on. It's too big for us really, but we really like the location, it's in a working class area, the same neighbourhood where some of our friends live, in fact just round the corner from the family who are looking after our dog, and it is just in front of a plaza which has a children's play area complete with baby-swings. We are hoping to sign paper-work within the next 24 hours. At the moment it is being "sympathetically modernised", (pretty much everything has been ripped out) so we can't have it yet. The builder says two weeks, although looking at it I would think more like a month; further developments to follow as they unfold.