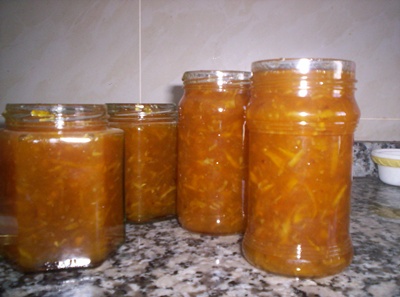 There is something smug making about the sight of newly-jarred marmalade cooling on the worktop, and the smell of home-made pies baking in the oven. I don't even like marmalade, but I enjoyed the whole faffy process of peeling and chopping and grating that is involved with preparing the oranges, and I love the witches cauldron sensation of stirring a big pot of bubbling gloop.
I made some plum jam a couple of weeks ago, which I do like. Plums were on offer, so I bought quite a lot, along with the sugar to make jam, and I dumped it all in a heap on the work-top, and I thought, "I dunno, that looks a bit much to me". And then I thought, "that's because if I was making this in England I would have been thinking in pounds not kilos". Doh. So then I divided it all in half which looked more like normal. Then I learned that my largest pan isn't really big enough to make jam. And as a result of that piece of learning, I also learned that jam that has boiled over and caramalised onto the cooker takes a jolly lot of scrubbing to clean off.
Last night I made three pies to feed our bible study group after the meeting (evening meal happens late in Argentina, people go out first and eat when they get home afterwards, so we normally just invite them to stay on when the study ends). We know that at least one family survived to tell the tale because they invited us to an asado (BBQ) for lunch today (it's the may-day bank holiday). And today I also made a pineapple upside-down cake, and a board-book of transport pictures for Joni. So now I'm officially smug, at least for the next three minutes, when I shall be forced to relent and tackle the fallout from bath-time.