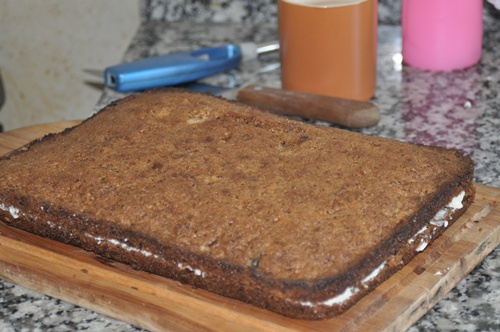 Took up the challenge (comment two blogs ago) to make a butternut squash cake. I pretended that squash was carrot and proceeded accordingly. We're all still alive, and it got a thumbs up from my willing taste-testers.
It contains:
lump of squash, grated (skin left on)
SR flour
Sugar (I'd use brown in the UK but it's hard to find here)
eggs
oil
walnuts, chopped
pinch of salt
ground cinamon
sodium bicarb (I'd use baking powder in the UK but it's also hard to find here)
I think that's all. Dump it all in a bowl and mix it up a bit. Pour into tin. Cook. Don't ask me what temperature, my oven's not that sophisticated. The filling is just a tangy buttercream; icing sugar, butter or soft marg, and juiced half a lemon.