New Year's eve passed in a pretty similar fashion to Christmas; convene at house of friends, eat a lot, watch the fireworks going off, repeat to fade. 
New Year's Day we took a little trip out to Devoto, which is the first little town west out of here and as we have discovered, is a great find for a small child; park in the centre, walk two blocks east and find a largish pond complete with ducks, geese and turtles, walk two blocks west and find a plaza complete with the ubiquitous swings etc., cross the road and find an ice-cream shop complete with ball-pool and soft play.  A free afternoon's entertainment (apart from the ice-cream). 
Monday I was back at the summer scheme as normal; Saturday here counts as a working day, so the New Year bank holiday was on Saturday (even though the banks and most white-collar establishments don't actually work Saturdays).  I've produced a little communication book for kiddo using pictures relevant to the summer scheme, which he is really enjoying… the picture of the swimming pool is his favourite, having that shoved under ones nose isn't a very difficult piece of non-verbal communication to understand!  He's a lot more water confident this year as well.  I had cunningly not told the village that I was enrolling him for the summer scheme in the hope that I could present it later as a foregone conclusion to claim my costs… bit of a risk, but it´s paid off as sure enough today I had a text from the social worker asking whether I had spoken to the village governor… "No, I haven't got round to that yet" (unsaid; because I took a conscious decision not to have a protracted discussion about whether the village can afford to pay for my fuel or not…) which fortunately elicited the desired response; "I'll make sure it gets cleared, save your fuel receipts and we'll sort it out at the end…" hoorah. 
This afternoon we thought that maybe some of the other local villages might be worth an explore as an alternative to Devoto, so we took off to Frere which is the first place out of here heading north.  Despite its reputation for affluence, which is certainly reflected in the houses and cars, we couldn't actually figure out what people of Frere find to do with themselves (apart from building big houses and buying new cars) since the place didn't even seem to have a working ice-cream shop let alone anything fun for kids.  We ended up in the local service station, which at least served coffee and pastries, and Joni was quite happy to eat a chocolate egg while watching the bored looking young man driving some sort of ride-on device cleaning the asphalt on the forecourt. 
On the way back we enjoyed some fantastic views of a thunderstorm breaking over San Francisco, which of course meant some good big puddles awaiting us for a good end to the day as far as Joni was concerned;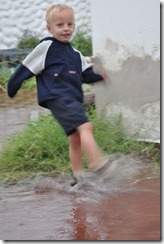 Martin on the other hand was less impressed about the other big drops leaking through our office roof and onto his computer; must tackle our landlady again about that one. 
We read the story of Epiphany this evening, Joni knows it well as he's very keen on the picture of the magi;
"Mummy, what's in the presents?"
"What do you think might be in there?"
"Hmmm…. a ball…. a banana…. some cars… some books…. and a lorry"
Probably far more appropriate gifts for a child than the original version, amazing that these people for all their wisdom never thought of that.