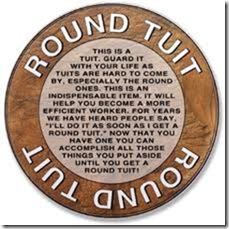 Clearly I need a round tuit.  As the observant reader will have observed er noticed, normal service is yet to be resumed; apologies also if your mail is one of the many in my inbox, it will receive a response although I´m not sure I could be optimistic enough to set a date. 
We enjoyed an action-packed UK summer.  (The UK summer is a much maligned institution. Stop moaning about it, put a cardie on, and feel grateful that you can go outside every day without waiting for the temperature to dip below 40 degrees.) 
Six weeks passed very quickly between family time with the cousins…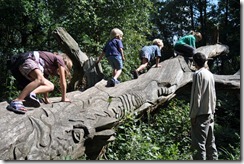 fun with friends…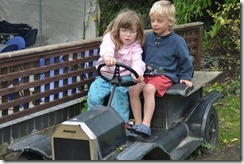 harvesting nature's abundance from the hedgerows… (and making jam with the fruit that made it home)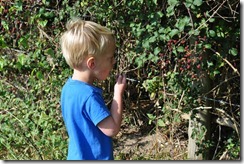 wrestling with giant crocodiles…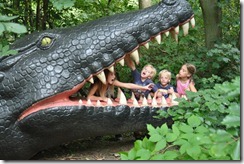 and testing the limits of science.
And my goodness don't you live in a beautiful part of the world! 
It's green, it's quiet, it's understated, but it is also well-managed, largely litter-free, bordered by hedges laden with a bounty of free food, networked with footpaths maintained by the landowner for access by the public, who may roam unhampered by fear of poisoning by toxic chemicals sprayed into every last nook and cranny.  I've said it before and I'll say it again, and we made the most of having it on our doorstep for six weeks.
Joni had his 4th birthday towards the end of the trip; 
1100 hours: "Mummy, I still four"  "That´s right, you´re going to be four all year now".  "That´s a lot of four". 
We celebrated by taking a picnic to Bekonscot and spending the afternoon chasing miniature gauge trains around the model village;
And now we've been back in Argentina a week and the UK is definitely nine thousand miles away.  I'd let myself off emailing and blog-writing from the UK in the end since we were busy, there were lots of us in the house, computer time was at a premium, there were other things to do… etc.  Except that now we're back here, it becomes apparent that baby Daniel has stopped being a tiny new-born (OK I took a while to catch on) and at four months he no longer sleeps in the day-time (nor much at night either but that's another story), and nor is he willing to talk to himself while I busy myself on the computer.  I'm beginning to see the attraction of the likes of Facebook and Twitter for those whose attention span only allows an idea to be sustained for a couple of lines.   Meanwhile, I am optimistic that normal service shall one day be resumed, although this may depend on me finding a remote control, be that for computer or baby.