The normal quality of workmanship in Argentina ranges from poor downwards, and while I know that my saying so will cause a few people to wince in a culturally sensitive sort of way, actually to pretend that this is not the case would be to do a worse injustice to the (sadly tiny) minority of tradesmen here who are busting their asses to provide a professional service and make a living against the prevailing tide of cowboys printing money for rubbish.  We had someone fix our toilet with a piece of string, twice; Martin fixed it properly himself the third time and so far it hasn't broken again.  We had someone charge us through the nose for fixing the washing machine, and left it even more broken than when he'd taken it.  Not only that, but when we called someone else to remedy the remedy, the second guy said "I know about this machine, the other guy phoned and asked me what to do, but I told him I couldn't really say without seeing it…"  And if I had a pound back from every time we've been charged a special rip-off price for being foreigners; in fact Martin once overheard a taxi-driver asking his friend whether Martin was good for a mark-up… And so, I am writing this little piece as a homage to the man who fitted our new bath. 
Baths aren't very common here, although they are becoming more common in middle class places like San Francisco.  (Here's a thing… if you try and adapt a UK bathroom into a wet-room e.g. for a disabled person, it costs the earth and then some, here all bathrooms are wet-rooms because it is apparently the cheapest way of making a bathroom; go figure. But I digress…).  Joni finally decided that he had grown out of the baby bath which he has been folding himself into since birth, and announced that we needed a "big boy's bath".  Mummy decided she agreed with him… showers are great for sensible things like efficiency and cleanliness but you can't beat a soak in a proper tub.  So the big boy bath project was born.  Buying it was the easy bit.  Then it sat in the garage for two months while we tried to find someone to fit it.  Previous people who we have used included some who we'd never invite back, one who had committed suicide, and two who had stopped being plumbers and were now apparently running a shop.  But eventually we were put in touch with a largish, dour, could-almost-be-Scottish type who came on the day he was supposed to, did the work he was supposed to do, set in motion a succession of other tradesmen to perform other related and non-related tasks, did a passable job at cleaning up after himself, and charged a reasonable price at the end.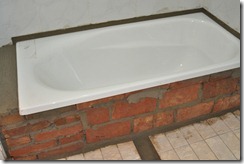 Work in progress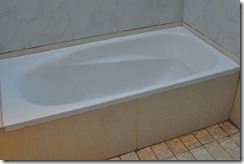 Finished item.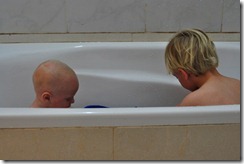 In use.
It isn't a Henry Moore, some of the finishing might even be described as scruffy.  But it's there, complete, working and fitted in a professional manner, and so for these and the other reasons given above, I salute you, I recommend you to our friends, and I will call you first next time.