Joni dresses up as San Martin, liberator of Argentina: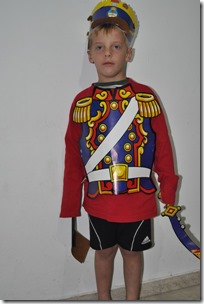 The main detail that everyone can remember from their primary school here is that San Martin rode a horse across to Chile.  So this could well be Danny's take on the same subject: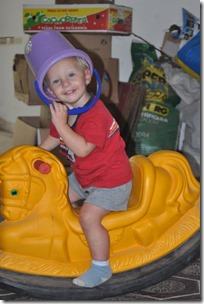 I've just started doing some home reading practise with Joni in English.  Spanish is beautifully phonetic, and English of course isn't.  At the moment we're playing around with the early years key words, trying to do a few minutes of something "educational" every day, so here is our "cat in the hat" game; cut two for matching pairs, or four for snap or happy families.  The words also can be used to make key phrases from the Cat in the Hat book (e.g. "no no said the fish"):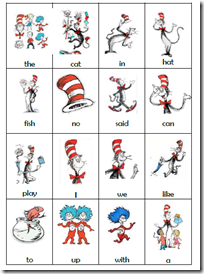 And Joni and I drew this take on snakes and ladders with felt pens on a piece of cardboard like we used to do on teaching practise when I was 18 and computers had barely been invented: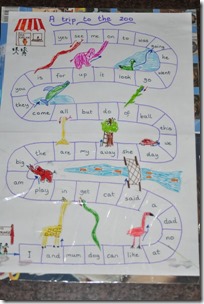 When we were in the UK over Christmas, I was particularly looking for the "next stage on" in terms of bedtime reading material for Joni; he's kind of outgrowing pre-school picture books, but he doesn't have a huge amount of patience to stick with involved plots or lots and lots of writing.  So I rooted in a few charity shops and gathered a few possibilities to bring back with us.  Thus we have discovered Horrid Henry:
It has shot straight to the top of his favourite bedtime books.  There are 86 pages and he already has significant chunks of it committed to memory.  As a "good parent" (aspiring) I'm fairly certain that I'm supposed to disapprove of some of the content;
"Don't call me baby", said Perfect Peter.  "OK, Duke of Poop", said Henry.  "Don't call me Duke!" shrieked Peter.  "OK, Poopsicle", said Henry.  "MUUUUUM!" wailed Peter….  (page 30, one of the many quotes that Joni knows by heart). 
But, it ticks my boxes in that we've moved into books with chapters, where we don't necessarily expect to read the whole work in one sitting, and where the line drawings generally take up less space than the text.  And he loves it, which really has to be the main criteria for 5 year olds' literacy skills.  In fact my main regret is that we didn't pick up a few more in the series when we didn't have to pay for international postage.
Meanwhile I discover that my first paying English conversation client is probably going to contribute more to my education than I to hers.  I went along to the first class without much of a plan, thinking we'd have a bit of a chat, and go with the flow.  She brought along her Kate Moss biography, having already underlined the vocabulary that she didn't understand.  And her suggestion for our next session is that we set up a typical scenario that we might come across while  on holiday; in a jewellers shop.  So I need to ditch my list of useful travelling phrases, (Can you give me a list of budget hostels? Is the campsite down this lane?) and do some emergency reading on jewellery and supermodels.  "MUUUUUUM!" wailed Peter.  "Nah nah ne nah nah" boasted Henry.   It's all an education.