There were 25 three to eight year olds in the house.  We hired a bouncy castle for the back garden.  Fortunately, despite threatening all day, it didn't actually rain.  I set the rest of the house up like a UK-style nursery classroom with simultaneous activities going on in different stations, and the kids meandered freely between them, which avoided having to try and herd them like cats to participate in organised group games.
I loved the train corner, it was continually occupied by varying numbers of little boys all playing happily next to each other without interacting in the slightest, it was the quietest place in the house!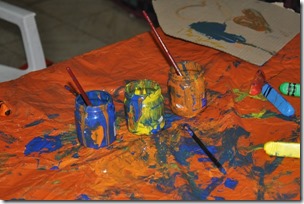 Note to self, omit painting table next time.  Blue paint can go a long long way.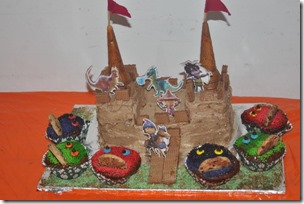 I had been given my marching orders for a Mike the Knight cake.  Cunningly the oven door went away for fixing and didn't come back, so I made the sponge cake in the microwave which I never tried before, but luckily seems to work.  Joni helped to decorate the cookie-monster buns.  I'm not sure if they are supposed to be attacking or defending the castle, but I saw them in someone else's blog and I thought they would be fun to add a splash of colour.