I left Danny's coat on the bathroom shelf and had got as far as trying to hang the toilet roll in his wardrobe before realising that I have finally lost the plot.  Something to do with two consecutive weekend Scout camps sandwiching a busy week in the middle.
The first camp was for the patrol leaders from the three groups in our district, which was very good for my kids whose lack of self esteem means that they struggle to integrate outside their own neighbourhood.  And the following weekend we took seven of our own group by bike to Monte Redondo about fifteen kilometres away from here.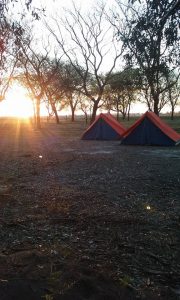 Following global trends, all our kids are overweight – where the rich do sports and have access to a decent diet, poor kids have neither, and it would be pushing a limit to describe some of their bent and brake-less contraptions as "bicycles".  All seven have significant issues in their own lives, disability, economic disadvantage, family situations, and several are subjected to judicial orders as victims of abuse.  It was a fairly relaxed programme, they explored the woods, and cooked on fires, including demonstrating that it is possible to boil water in the plastic coke bottle without it melting, but be careful when you take the lid off!  Maybe should have written a risk assessment for that bit.  Or not mention it at all.  Ho hum…
Luckily this week isn't proving to be too heavy so far, although I am going to Buenos Aires on the night bus on Thursday because I have an appointment in the Ministry of silly walks Education on Friday now I have finally (hopefully) managed to collect enough pieces of paper to prove that I did complete secondary school a million years ago in my country of origin.  At the moment I am thinking about the whole bureaucratic paper chasing thing in terms of an acted parable.  So far I think we have been called to act three parables, the first when the ex-prisoner and wife stayed with us for a year, the second in fostering Teen and then her Baby, and now this would be another.  Except that I think I kind of understand the first two, but I haven't yet figured out what this one would be about.