Femicide (and now I'm finding it interesting that femicide apparently isn't recognised by the Microsoft Office spell checker as being a valid word…) has become a topic of national debate over the last year or so, following a few high profile examples, including a particularly horrific one a few yards from our door which caused the national press to camp outside for a couple of days.
The education system caught on, and a national date was set for every school to run a workshop for pupils and parents on equality and gender violence.  So I went to school with Joni for the morning.  It was an illuminating experience.  We heard that "as a result of economic necessity, unfortunately women have had to go out to work…".  Then we were told that "since women have had to go to work, then men should help in the house…" (the house remaining the domain of the female while the male helps her out a bit if he is a good boy).   And finally we discovered that "men can do women's jobs, and women can do men's jobs" (without wondering if it is, or ever was, Ok to think of them in terms of "men's" and "women's" jobs.).  So all in all, we experienced a session whose purpose was apparently to tackle inequality, without actually identifying, much less questioning, any of the stereotypes underlying that inequality.  I guess it was a start.
This is an poem that drew my attention on social media a few weeks ago as part of the anti-femicide campaign.  "Ni una menos" means "Not one less" and I'm putting it up in full so I can find it again when I need it.  Unfortunately it didn't make it as far as the school workshop, but it is an interesting reflection on culture, and does challenge some of the stereotypes which make us wince – e.g. the one about how the female children in the family are often made to clear up after the males, or how the female workers in an office get to make the coffee and sweep up after males on the same grade.  Poems work better in their original language and this one uses national dialect to add to the difficulties, but you can get an idea if you run it through a translator.
NI UNA MENOS from http://nohuboderecho.blogspot.com.ar/2015/11/ni-una-menos.html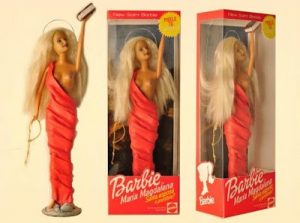 Ni UNA MENOS
Itatí Schvartzman
La amiga que sueña un marido que la mantenga
el pibe que escribe el reggaetton de moda
la madre que educa machitos y princesas
el jefe que escupe: es que está en día femenino
la compañera que te dice: así no vas a conseguir novio
la boluda que aclara: soy femenina, no feminista
la mamá que la viste sólo de rosa, porque es nena
el papá que compra muñecas y cocinitas
y lavarropas a la nena
y pelotas y aviones y juegos de química al varón
el novio que te revisa el teléfono y el facebook
la mina que dice de otra mina que parece una puta con esa ropa
la mamá que sueña un príncipe azul para yerno
el papá que paga por sexo con nenas de la edad de su hija
el novio que no coge con la novia por respeto
y sale de putas después de acompañarla a casa
los compañeros profesionales que en vez de escucharte
lo que tenés para decir en la reunión,
te piden que sirvas el café o hagas el mate
la marca de detergente que sólo te habla a vos, mujer
el médico que te hace cesárea sin necesidad
o el que te hace la episiotomía de rutina
la enfermera que te grita: bancátela, bien que te gustó hacerlo
o la que te ata a la camilla para parir
el marido que te prohíbe trabajar
o el que te esconde los documentos y la plata
o el que te controla los ingresos y egresos
la caricatura política diaria
el chiste de mierda, las propagandas,
Tinelli, la novela turca, los concursos de belleza
el que te obliga a hacer algo en la cama
que no deseás, el que se fija sólo en su placer
el que te dice: ahora no me podés dejar así
el que te humilla, el que te adjetiva, el que te menosprecia
el que te caga a trompadas
el que te aisla, te controla, te cela, te sigue
el que me dijo el primer piropo grosero
a los doce años, el que me tocó contra mi voluntad
en el boliche de moda, en todos los boliches de moda
el compañero que te manda a barrer el piso del local del partido
el compañero que no cuestiona sus privilegios
el que recibe un cheque más gordo sólo por tener pene
y se calla y se lo guarda en el bolsillo
el pelotudo que pregunta y el día del varón, eh?
la mamá que obliga a la nena a levantar
los platos sucios de sus hermanos varones
la pelotuda que rápido vuelve a aclarar
pero mirá que yo soy femenina, no feminista
la que se burla de que no me pinto
la que se burla de que vos no te depilás
la que se burla de que no calzás tacones
la que se ríe de que compro libros y no carteras
el compañero que me mira las tetas
Todos unidos frente al televisor
preguntándose cómo puede ser
que asesinaron a otra mina
Ita, 25 de noviembre 2015