I remember last summer in our house as a story of ongoing warfare.  This year, one week in is clearly too short to  call, but the first week at least has gone well.
Danny's little riding group runs a summer scheme two mornings a week, which includes riding and other outdoor activities.  On Tuesday they made bread and cooked it on a fire.  The limitations of the law of averages can be demonstrated by child-cooked-campfire bread:- black outside and raw inside definitely does not average well cooked loaf.  But he was very happy.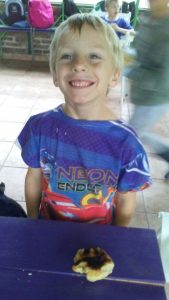 He also finally conceded to learn to use a swing properly without bouncing off the ground on every stroke.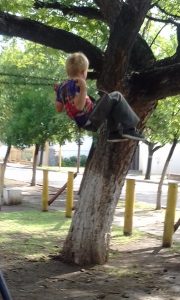 Joni decided to take an art class for the summer, having majored in sports during the rest of the year, so he has two afternoons a week at an art group.  He's really happy with it, to the extent that he's thinking about replacing a sport with art as an after school activity next year.   He is also working on his train track in the garage, he and I spent a creative morning mixing colours and experimenting with effects to make water.  I'm told the next job will be mountains out of polistyrene and papier-mache.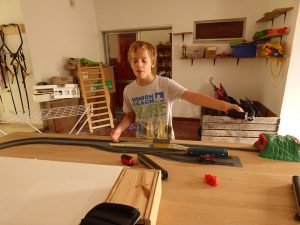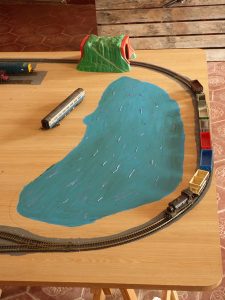 Teen has been taking exams at school which has probably helped with the warfare thing not to have everyone at home together all week.  The exams haven't gone too well and she now won't know till the next round in February whether she is going to be able to progress to the year above.
I went with some Scout leader colleagues to check out the site that we are planning on taking our group to for a week at the end of January.  It's a small site, but nice looking, with woods and a river nearby, so plenty of scope for the programme.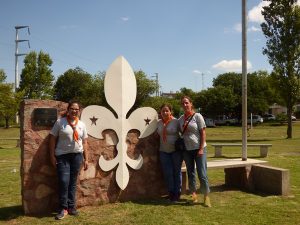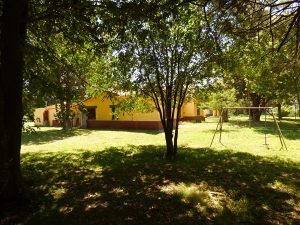 Three mums don't often get a chance for a whole day out without kids, so we had to make the most of the opportunity for a  bit of goofing around.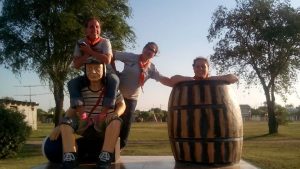 Then back home, we finally managed to get the pool up and running for the kids to take their first test dip yesterday evening.  Still needs topping up and chlorinating, and then hopefully a couple of hours of filtering a day will keep it operational till March.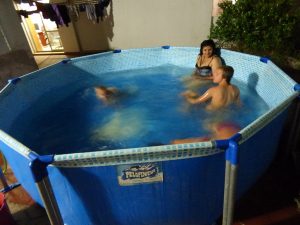 I haven't yet thought too hard about Christmas, which apparently is tomorrow.  But I did do the food shopping this morning.  Meanwhile today is Baby's second birthday, (could be renamed No-longer-Baby) and the house is about to be overrun with rug-rats so I should go cook sausages and tips crisps into bowls.