This week's piece of good life-advice is for mummy: "Always organise the bath
before
you remove the nappy". Now he's learning to roll, he is no longer safe to be left on the changing mat (tendency to end up in the sink!), and hoiking a squalling, squirming, poo-coated creature under one arm while trying to fill the bath, find towels etc with the other hand is not an experience that either party would be rushing to repeat.
We had Joni's one-month checkup yesterday. He now weighs in at just over 4 kilos and he responded very well to all the poking and prodding. Luckily he likes human contact in just about any form, although he wasn't entirely pleased with the lady taking blood out of his heel. Next week we have to go back for another blood test, as his hemoglobin levels seem to have fallen quite rapidly. Mummy and daddy are trying to decide how concerned we ought to be at this stage, given that baby appears to be healthy in every respect, but we're not medics, so we'll see what they say next week.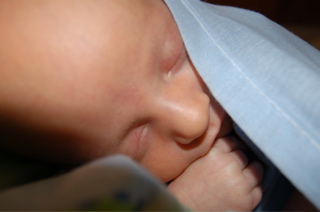 I improvised us a sling using a single bed sheet, mostly for the times when he is grizzling but doesn't appear to want anything. It's not Joni's favourite mode of transport, but in the scale of things he likes it better than being abandoned to whinge in his cot. This is the view I have of him when I cross my eyes and look down my nose…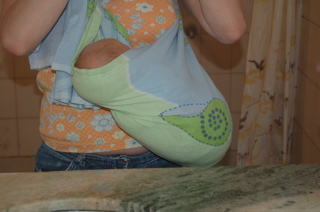 Here we are cleaning the bathroom together… To be honest he's not a great asset to the cleaning process. But he is quite useful as a fashion accessory to hide my "not quite yet back to pre-pregnancy" stomach.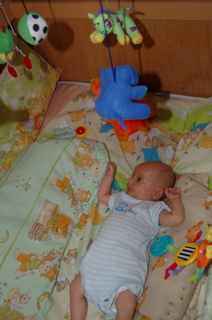 Some lovely friends sent us some money for Joni, so we had fun shopping for presents. This is his favourite, a cot mobile with beany-animals, which spins around and plays a truly dire version of Frere Jacques. Joni loves it. Martin is hoping that his musical tastes might improve as he gets older. He played him Beethoven's Eroica the other day to try and help the refining process along a bit…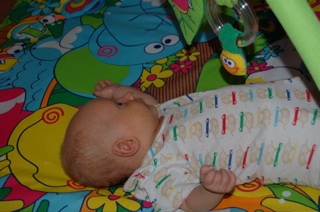 And this is a multi-sensory baby gym type affair including a textured mat, and things hanging over the top of it. He's just getting the idea that a good swipe at one of the hanging rattles makes for a satisfying noise. We're hoping that he might see this as an interesting environment for practising his skills, as an alternative to swiping the contents of the bathroom work-surface onto the floor, and rolling himself into the sink…