Since last week we've been giving presentations to churches in Cranham, Whitstable, and Welling. We went to an event with folk at a church in Hatfield, caught up with old friends in Cambridge, dropped in "on spec" to a group in Harlow, and because obviously we hadn't driven enough miles yet, we fulfilled a longstanding promise to take a young friend to Alton Towers. The motorway network is well into traditional "summer" mode, i.e. filled with traffic cones and contraflow systems, without which the congestion alone would probably still make the experience arduous enough; but my goodness we do have the most fantastic bunch of friends and supporters. Today was a series of joyful little reunions with friends at a drop-in centre in Harlow, and I was struck yet again with the warmth and care, and by so many people just quietly getting on with walking the good deeds that God sets before us. It probably sounds sentimental, but we are really proud to know you guys.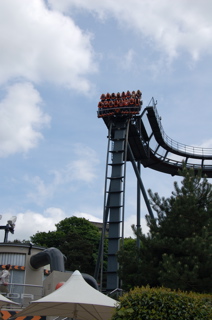 There's something about theme parks. I always think I'm too grown up, and have no intention of mounting anything moving faster than a cable-car. I can maintain this stance without any difficulty until someone persuades me that my presence is necessary to make up a twosome. I ascend as a (relatively) dignified adult convinced I wouldn't be doing this apart from as a favour for my needy friend, and descend as a fully transformed consumerist adrenalin junkie; "That was fun, now get me a bigger one…".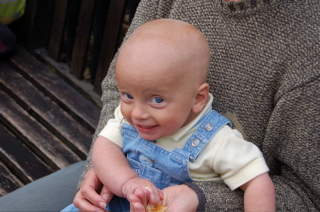 Joni at eight months old today is too young to be impressed by roller coasters, but he was highly pleased by his first experience of donut. His newest skill learnt this week is blowing kisses. He is very generous and non-discriminatory over whom he bestows his kisses upon. Worthy recipients have included the lady serving in a corner shop, my parents' dog, and the sheep and lambs in the field we walked the dog through.