Imagine a party where the host stands at the door in order to ask the guests their names on the way in? The original story can be found in Luke 14:15-24. Here is an alternative:
A certain family were preparing a party so they could invite their friends and neighbours to celebrate their son's first birthday. When the day came for the party, they found themselves stuck in the wrong city, in a neighbourhood where they didn't know anybody. "What shall we do?" They asked themselves. "We can't let this occasion pass unmarked". So they went out to the highways and byways, and they said to the children who were playing out in the road, "Come in and share a cake with us". And verily, the children did come in, and the candle was lit and blown out a few times, and some songs were sung, and the cake was eaten, and the balloons were popped, and everyone went home happy.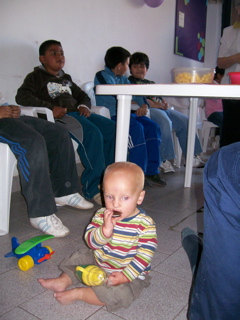 And now every time we go out with the pushchair, the neighbours say hello to us! As for Daddy's leg, it is coming along, albeit more slowly than we would have liked. He has been ordered to rest up until next Monday when hopefully the stitches will be taken out.