Long time no communication. We remain without internet, and the flotsam and jetsam of life sometimes seems to occupy a lot of time. Last week it took me three trips to the electricity company to have the bill changed into my name, and two trips to the Banco de Cordoba to pay the police fine that I incurred by driving on the arterial road without my headlights on Friday. (Law here is that headlights must be used on major routeways at all times, except I forgot to switch them on.)
On the whole life is going OK, we like San Francisco very much. Our house is right in front of the neighbourhood plaza, and our view at the front windows looks like this: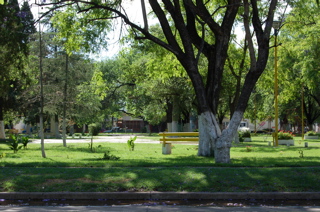 which is not an entirely unpleasant backdrop for eating ones breakfast. What we can't quite understand, given the proximity of fifty mature trees, is why the sparrows insist on trying to nest in our window blinds, squawking peevishly whenever we raise or lower same. On the far side of the plaza, just visible through the trees, is a well-kept children's play area which Joni loves. We stop there most days on our way to or from wherever else we might be going to.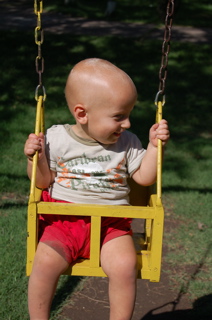 Ministry-wise, things are starting to take shape. We have been going out to the village at Quebracho Herrado once or twice a week, meeting with different people. I managed to get the car stuck in the mud there this week. Didn't have the camera with me, but Martin said the car looked like I'd been rally-driving. At the moment priorities include building a relationship with the school; the head teacher would be best described as "interested but wary" at this stage.
At church we have done a couple of teaching slots, and taken the mid-week meeting for the last two weeks. Last Sunday we invited the whole church home for an "English tea". I spent a couple of days baking scones and biscuits and cakes, and we made all willing victims drink their tea our way; "put a little bit of milk into the bottom first…" The end result was something like the Mad Hatter meets the Typhoo chimps (or was it Tetley?) but it was all good clean-ish fun;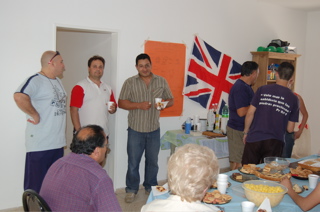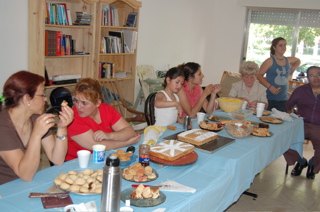 The senior members of the church testing our sofa for durability;