We got Joni and his bike safely to the other side of the city so he could put it through its paces on the bike track. 
Looking good, especially with the new gear that we had gathered for him with granny's birthday money.  There was a bit of a sulk because he doesn't yet know his way round the gears;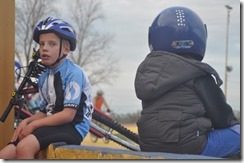 But apart from that he did great 
Danny meanwhile filled up the rest of my data card with shots of a Danny's-eye view of the world:
Continue in similar vein for another two hundred shots!