The area around San Francisco reminds me quite a lot of South East England; understated, and under-rated. It would never figure in the seven most spectacular sights of the world, or even in the seven hundred, but it does have a quiet charm of its own which is worth stopping to appreciate.
Today it rained, so I took Joni out for a lesson on splashing in the puddles. He's a fast learner, I may live to regret that bright idea. These photos are from the other day on our favourite walk. It takes about an hour and a half; or two if you keep stopping to take photos and talk to the horses…
Go down to the football pitches, and turn right into the lane;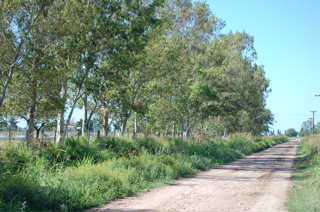 Trees and football pitches give way to fields which held winter barley, recently harvested;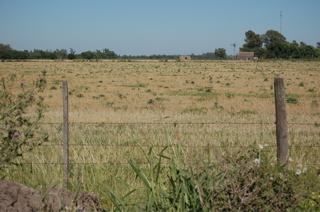 Watch out for bird life; from big birds of prey (Carancho), to the flycatchers with their long scissor-tails, and even tiny humming birds. Ever tried to get a photo of a humming bird? I haven't succeeded yet, it's jolly not easy, especially with such willing assistants as Joni and the dog.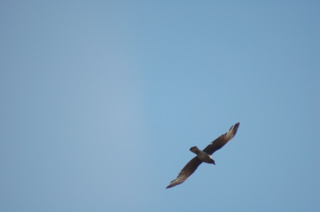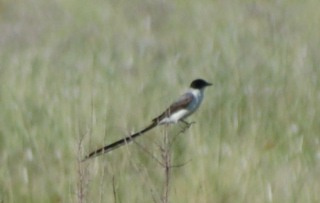 Carry on up the lane to the horses field. Horses still play an important part in Argentinean life, both for work and play. At one end of society, the polo world cup is no longer played because Argentina won it too many times; and a proportion of the illegal drugs sold for human consumption start life as illegal imports for doping race-horses. At the other end of the scale, it is quite common to see ragged, moth eaten, knock-kneed beasts moving builders rubble, or pulling carts with entire families and their belongings. There doesn't seem to be a great understanding that looking after ones animals might make them last a bit longer. However, our horses here are neither ill-treated nags nor ill-treated race-horses, but somebody's pride and joy, well groomed and gentle, they quite often come to the fence and let Joni stroke their noses;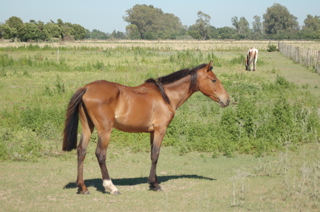 Turn right past the farm, and go down another lane. Notice the owls on the fence posts, they're nearly always there on the same posts. Sometimes they even stay put and let us walk right past them;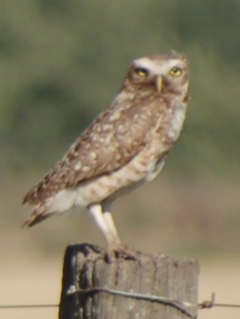 Keep on till the point where the tracks cross. Watch the field flatten out, and the sky open up;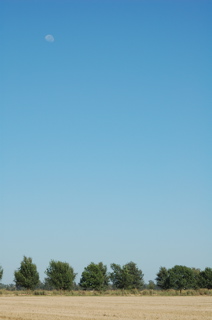 At the crossing point turn right. Pass the "vivero" (nursery, of the plant-rearing variety, we've been enjoying buying things here) Beyond the vivero, the barley gives way to two big fields of yellow sunflowers, which the parrots are loving at the moment;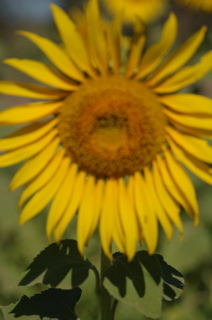 Stop to look (point / wave / say "moo" at) the cows and chickens in the farm-yard, and then head up the road for home. With any luck it might even be time for a mid-morning coffee.