"Spring is here, oh spring is hereLife is skittles and life is beer…"
Tom Lehrer, mathematician and musician, emerges from obscurity of lecturing maths at Harvard to create a minor storm with his musical talent, writes and performs a fistful of songs until he has sung what he wanted to say about issues that interest him, and then disappears again behind the dusty blackboard of academia. Fantastic. The coming of spring always has me humming;
"All the world seems in tune on a spring afternoon
When we're poisoning pigeons in the park…" oops.
We may not have skittles here, but the beer is OK, and even the San Francisco pigeons are proper countryside varieties rather than urban flying rats. But more important than pigeons, the spring birds are back. Our two favourite burrowing owls have reappeared on their usual fence-posts, and I've seen a couple of little hummingbirds performing a courting ritual, and the scissor tailed flycatchers, and the red-breasted blackbirds, and these;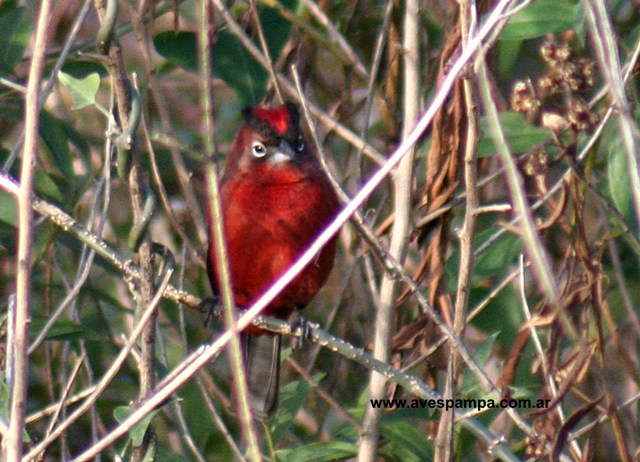 Flame red "brasitas" (brasa being Spanish for embers). They look like they should belong somewhere much more exotic than the agricultural east of Cordoba, it's a real treat to see them. This photo's not mine and won't be till I've saved up again and replaced the good zoom lens that was unfortunately attached to my camera when it was stolen. Till then I'm borrowing bird photos from Aves Pampa which is a really useful site on Argentinean birds for any budding southern cone ornithologists, with good photos and material in English

Today was a bank holiday. There are lots of bank holidays in Argentina, the UK could do with borrowing a couple. This one was for "día de la raza" "day of the race", as in ethnicity rather than the two-fifty at Newmarket. Modern Argentina is essentially a nation of immigrants, although most of them have been here for a generation or two longer than we have. We spent the day exploring some of Santa Fe, the next province east from us, we made it to Rafaela, a town about eighty kms away, and from there did a little circuit of a couple of nearby villages. We drove a bit, walked a bit, stopped for ice-cream, Joni played on the swings; we drove a bit, walked a bit, stopped for another ice-cream, Joni played on some different swings… repeat to fade. All agreed it was a fine use of a mild and sunny spring bank-holiday.