Advent calendars are one of the few traditions that we have exported from the UK.  It gives us a nice way of reading the Christmas story in 25 bits every year, and you might be horrified at how many church kids here couldn't retell the Christmas story because they never hear it, even in church.  And it also helps the kids not to go mad with excitement on the 1st (2nd, 3rd, 4th, 5th…) of December because we have a graphic representation of just how many days there are still to go. 
Here is this year's creation:
Each pocket has a bible-verse card, and three home-made chocolates, one each for the young-people of the household. 
Note to self (and anyone else stupid enough to need the advice); an ambitious project involving melting chocolate and lots of sewing would normally need to be started before the 1st of December, unless you are either very skilled or have the entire day to yourself, neither of which was remotely true in my case. 
The other English tradition very important to the boys in my household…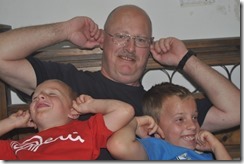 …watching Dr Who and hiding from the scary bits!